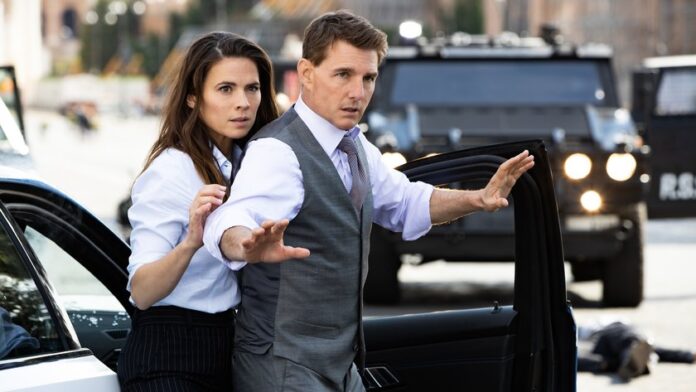 If there is something more incredible than watching the real death-defying stunts throughout "Mission Impossible: Dead Reckoning, Part One"? Yes, it's the idea that in 1996 anyone could have predicted this narrative-thin concept would still be a powerful franchise, or that Tom Cruise would still be at the helm, and risking his life in more extraordinary ways the older he got, and in the process, become the last movie star still standing.
By Martin Lazzarini, from Buenos Aires
It would be of little use to spoil the plot of this new Mission Impossible movie released worldwide this Wednesday. What would it be a surprise, exactly? Would you be shocked to learn that Ethan Hunt (Tom Cruise) is pitted against the biggest worldwide threat possible? Wouldn't you know that he will eventually need his team of reliable associates – Isla Faust (Rebecca Ferguson), Benji Dunn (Simon Pegg), and undoubtedly, an unbeaten record for the longest-surviving black character in an action franchise – Luther Stickell (the wonderful Ving Rhames)? Perhaps the only mystery here is that the story ends in a way but not entirely, and you would need to wait for a few years to see its conclusion, not unlike two or three other recent franchises, from Star Wars to The Avengers, to even the original movie spy franchise, James Bond.
At this point, it's entirely predictable for the seventh iteration of the Cruise-controlled franchise that Henry Czerny made a return as the original pain-in-the-neck of 90's movie lore, culled way down from the first Mission in 1996, as the series has used and re-used all the recent cast of characters – all this without taking account of the impressive lineup of supporting roles – anyone from Billy Crudup, to Tony Hopkins, Lawrence Fishburne, Baldwin, and an equally impressive cache of villains topped by the gold standard set by the late Phillip Seymour Hoffman.
With apologies to the brilliant Christopher McQuarrie, is an unintended irony that most of the plot in "Dead Reckoning Part One" takes place in Rome. Much like the best Italian food, the plot of this movie is, however masterfully developed, simple comfort food, made brilliant – like Italian cuisine – by its top-notch ingredients. It wouldn't take from Cruise's triumph to say that the franchise has an enormous debt of gratitude to McQuarrie. He was the one who decided to break with the flavorless traditions set in this world, to never repeat cast and crew, and make it an anthology only centered around its star. McQuarrie ditched these limitations with true artistic gusto long ago, by creating a familiar environment for Ethan Hunt, and repurposing whatever little backstory there was. Such was his success that Cruise then broke this rule behind the camera as well, the reason why this is McQuarrie's third and fourth time at the helm.
Granted, McQuarrie's jigsaw storytelling fits perfectly with the exhilarating Cruise brand of filmmaking. On its own, the cerebral detours that are the stock-in-trade of the Oscar winner for "The Usual Suspects" may or may not hold up to today's need for eye-popping no-brain thrills, but they are the perfect filler for the ludicrous daredevil glass house Cruise built for himself.
The days when Cruise tested his actual mettle are long gone, perhaps because they don't belong on the big screen anymore. Modern audiences wouldn't know the comparisons to a modern Douglas Fairbanks or even a modern Even Knievel, but how he has surpassed himself in the stunt world as he presumably aged, Benjamin Button style is a miracle all by itself.
Cruise has slowly grown past the swashbuckling type many movie stars often hint at and become our Buster Keaton. Just as McQuarrie's cerebral plotting fits with the daredevil shows in between, Cruise's mild sauce charisma, intense but not in a modern-world cancelable way, also fits nicely with what his death-defying pursuits require. This is, in fact, the main reason to watch this film in theaters. It doesn't have to be this way, but despite its top-notch talent all around, the format holds little surprises to its mostly over-forty audiences. It's not anyone's fault. We've seen these sequences before, just not as well done. The chase in the ridiculous car, the old-fashioned fatal encounter. One might even wonder if the railways only survive for the purpose of inhabiting a sequence in every recent spy movie, bar none.
The spy genre as understood in Mission Impossible was an outdated comfort narrative back when Tom Cruise took hold of it. These Cold War hints are as old as the European imperial games felt to young people during the Cold War. They embody a matryoshka of worldviews that were ripe for ironic asides in "Mad Men" and are now dissected for open derision in HBO's "White House Plumbers" where Woody Harrelson's Howard Hunt is a wannabe Bond who thinks he's a first-rate Le Carré.
This is the real tension underneath the fictional tension. We're glad the old pasta is served with such gusto, and truly really love it, but the kids have forgone the calories and they like Poke, which is just as tasty but it's healthier. If you're looking for the perfect combination of Cruise's star-wattage and his impressive real-life courage, contrivances of the genre be damned and are impressed by our ballroom dancer, our Messi of the live-action movie – seriously committed, delivering excellence in every pixel, bringing McQuarrie's panache and gravitas to boot, then "Mission Impossible: Dead Reckoning, Part One" in all its crossword-puzzle implausibilities is right for you.
Mission Impossible: Dead Reckoning Part One. PG-13. Dir.: Christopher McQuarrie. Written by Erik Jendresen and Christopher McQuarrie. Starring Tom Cruise, Hayley Atwell, Ving Rhames, Simon Pegg, and Rebecca Ferguson. Running Time: 2h 43m